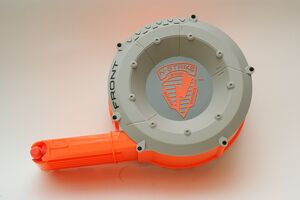 The 35-Dart Drum can only be purchased with the Nerf N-Strike Raider CS-35. The Drum is clip-system, so it can fit on all clip-system blasters. This is currently the second highest capacity drum available, highest being the 40-Disk Drum.
It is not compatible with the Flip Clip, like all drums.
Up to 38 darts can actually be inserted into the drum without damaging the darts or the drum. But having more than recommended can result in more frequent jamming.
Ad blocker interference detected!
Wikia is a free-to-use site that makes money from advertising. We have a modified experience for viewers using ad blockers

Wikia is not accessible if you've made further modifications. Remove the custom ad blocker rule(s) and the page will load as expected.