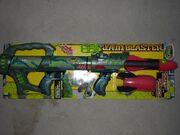 The Power Popper Grenade was a Grenade released with the 2009 Lanard JAM Blaster. It is similar to the Scatter Blast. It is exclusive to the JAM Blaster, and cannot be used on any other blaster. It comes alongside a Screaming Missile, which is usually preferred over it. It is similar to a Nuke.
Compatible Blasters
Edit
See Also
Edit
Ad blocker interference detected!
Wikia is a free-to-use site that makes money from advertising. We have a modified experience for viewers using ad blockers

Wikia is not accessible if you've made further modifications. Remove the custom ad blocker rule(s) and the page will load as expected.