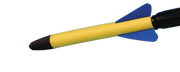 Rockets are Ammunition. There are two types of rockets; large and small. Both have quite a good range, but have poor accuracy which is a reason why these are unpopular. They are completely different from the Air Launcher's rocket ammo, which was short and stubbish.
Compatible Blasters
Edit
Large
Small
See Also
Edit
Ad blocker interference detected!
Wikia is a free-to-use site that makes money from advertising. We have a modified experience for viewers using ad blockers

Wikia is not accessible if you've made further modifications. Remove the custom ad blocker rule(s) and the page will load as expected.