Water Clip
Year Released:
Available?:

Yes

Stock Capacity:

275mL of water

Average Retail Price(s):

$3.99

Family:
The Water Clip is a 2011 Nerf Super Soaker clip. It comes with the Thunderstorm and Tornado Strike soakers, though there are certain other soakers which are compatible with it. It holds 275mL of water.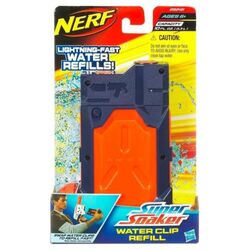 All blasters compatible with the Water Clip are compatible with the Water Drum and likewise.
A built-in Water Clip is used in the Electrostorm.
See Also
Edit
Ad blocker interference detected!
Wikia is a free-to-use site that makes money from advertising. We have a modified experience for viewers using ad blockers

Wikia is not accessible if you've made further modifications. Remove the custom ad blocker rule(s) and the page will load as expected.